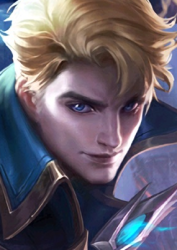 | | |
| --- | --- |
| Durability | |
| Offence | |
| Ability Effects | |
| Difficulty | |
Attributes
| | | | |
| --- | --- | --- | --- |
| Movement Speed | 260 | Mana | 0 |
| Physical Attack | 123 | Attack Speed | 0.9 |
| Magic Power | 0 | HP Regen | 39 |
| Armor | 21 | Mana Regen | 0 |
| Magic Resistance | 10 | Basic Attk Crit Rate | 0 |
| HP | 2821 | Ability Crit Rate | 0 |
Trivia
Alucard and Saber have 6 skins.

He is one of the heroes to have a Season special skin (Fiery Inferno), along with Nana, Fanny, Hilda, Minotaur, Alpha, Moskov, and Estes.
Him and Clint are the only heroes with their first skin (Demon Hunter) to be reworked with different entry but his complimentary skins (Lone Hero and Fiery Inferno) were not be changed or reworked.

Before Season 4, Alucard only had 3 quotes. However, after getting a new voice actor, the developer added more quotes and removed the line "Why do humans cry?".
It is unknown if Alucard is related to Bane (Count Dracula).
If you reverse Alucard's name, the result will be Dracula.

This maybe a hint on how Alucard can lifesteal.

Alucard's old appearance had a resemblance to Dante, the protagonist in Devil May Cry series.

Alucard was actually named Dante when the game was first released, but the name was changed very soon.
The reworked Alucard seems to resemble a bit of Vergil.

Old Alucard and his old sword can be seen in his 1st, 2nd, and passive Icons.
He is one of the heroes in the game to have no specific place of origin.