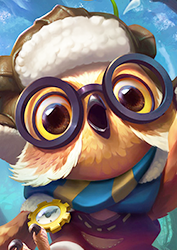 | | |
| --- | --- |
| Durability | |
| Offence | |
| Ability Effects | |
| Difficulty | |
Attributes
| | | | |
| --- | --- | --- | --- |
| Movement Speed | 250 | Mana | 490 |
| Physical Attack | 115 | Attack Speed | 0.8 |
| Magic Power | empty | HP Regen | 36 |
| Armor | 18 | Mana Regen | 20 |
| Magic Resistance | 10 | Basic Attk Crit Rate | 0 |
| HP | 2351 | Ability Crit Rate | 0 |
Trivia
Diggie is the only hero that can move and act after death instead of spectate.

He can interrupt some enemies who are regenerating and recalling.
He can also check lord or turtle to see if an enemy is attacking them, as well as bushes.
Strangely in Brawl, he can buy items while in Egg Form.
His favorite study is horology, the definition is art of making clocks and watches.

He aligns with Cyclops, being that he is an astronomer which is the student of astrology.

He is the smallest hero in the game. He is also the smallest Support.

Despite that he's an owl.

Unlike real owls, he lives day and night.
In Mayhem Game, while he's turned into Egg Form, his skill damage was very high.