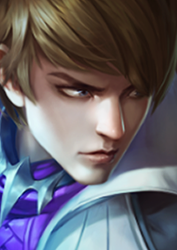 | | |
| --- | --- |
| Durability | |
| Offence | |
| Ability Effects | |
| Difficulty | |
Attributes
| | | | |
| --- | --- | --- | --- |
| Movement Speed | 260 | Mana | 469 |
| Physical Attack | 119 | Attack Speed | 0.892 |
| Magic Power | 0 | HP Regen | 39 |
| Armor | 18 | Mana Regen | 16 |
| Magic Resistance | 10 | Basic Attk Crit Rate | - |
| HP | 2578 | Ability Crit Rate | - |
Trivia
His full name is Gusion Paxley.
Along with the Vance siblings, Harley and Lesley, he is one of the heroes in the game to have a full name.
In demonology, Gusion is a strong Great Duke of Hell.
Since he is an assassin, he has an ambush advantage against sole enemy heroes. Combining with his cooldown-refreshing Ultimate skill, he can easily defeat any enemy hero when used carefully. But, like any assassin, he is vulnerable when he is attacked by many enemy heroes.
He is also known as Gossen in the early releases of him in the game.
Daggers have been used throughout human experience for close combat confrontations, and many cultures have used adorned daggers in ritual and ceremonial contexts. The distinctive shape and historic usage of the dagger have made it iconic and symbolic.