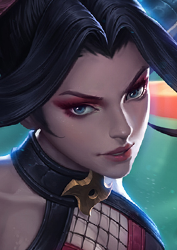 | | |
| --- | --- |
| Durability | |
| Offence | |
| Ability Effects | |
| Difficulty | |
Attributes
| | | | |
| --- | --- | --- | --- |
| Movement Speed | 245 | Mana | 390 |
| Physical Attack | 115 | Attack Speed | 0.85 |
| Magic Power | - | HP Regen | 30 |
| Armor | 17 | Mana Regen | 15 |
| Magic Resistance | 10 | Basic Attk Crit Rate | - |
| HP | 2510 | Ability Crit Rate | - |
Trivia
In Japanese translation, Hanabi (花火) means fireworks. This reflects to the effect of her Ultimate skill.
Althogh her portrait shows Hanabi's full face, her character's model has her face partially covered with a black handkerchief.
Two of Hanabi's quotes refers to her background and Lore:

"I don't wanna lose to that snot nosed shadow." refers to her rival/friend Hayabusa. "Just show me an umbrella and see what happens to you." refers to Kagura, her rival for Hayabusa's affection. Both this rivalries are shown in her background and official motion comic.

Kagura's and Her Ultimate Quote are the only quote in the game from a different language (Japanese).
Hanabi's weapon resembles a Chakram , and it's name, Higabana, refers to the Red Spider Lily flower, the same one that appears when executing her Ultimate.

It can be noticed the similarity with Karina's "Spider Lily" skin.

She is inspired by Coco from Magic Rush.