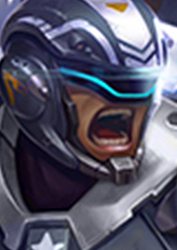 | | |
| --- | --- |
| Durability | |
| Offence | |
| Ability Effects | |
| Difficulty | |
Attributes
| | | | |
| --- | --- | --- | --- |
| Movement Speed | 2.55 | Mana | - |
| Physical Attack | 112 | Attack Speed | 10.325 |
| Magic Power | - | HP Regen | 42 |
| Armor | 27 | Mana Regen | 12 |
| Magic Resistance | 10 | Basic Attk Crit Rate | - |
| HP | 2809 | Ability Crit Rate | - |
Trivia
Johnson, Alpha, Saber, Jawhead and Angela are the only heroes who are mechanicals, Unlike Jawhead and Angela, Him, Alpha and Saber are cyborgs.
Johnson is the one of the member of S.A.B.E.R. Squad alongside with Rafaela, Layla, Saber, Cyclops. He transforms into an half-track armored personnel carrier (APC) despite that it can carry only up to 1 passenger (excluding Angela).
Johnson is the only hero whose skills' damage is based on his armor stat, and not physical or magical attack.

That means he can be a very strong tank and still deal a lot of damage.

One of Johnson's quotes are refering to:

"Autobots? Sounds familiar." A reference to Autobots from Transformers franchise.
But, some of his quotes aren't factual at all, like "Installment of vehicular missiles is a must for safe driving".

It is a reference from his old second skill.

If Johnson transforms into his car form and someone rides him and if Angela tries to possess him, this results 2 passengers in him. But this doesn't make him the hero with the most passengers.

In Bruno Cup Mayhem Mode, he can now carry his whole team in his car.

When transformed into his vehicle form, His front can be resembled to a Dodge Challenger as seen in this image.
Johnson is one of the heroes who can transform. The others are Selena and Roger. But, unlike the two, He doesn't have other skills upon transforming.
Some players who is using him attempts to circle the battlefield in his vehicle form without bumping into an obstacle or any enemy hero.
When used carefully, he can be fast enough not to be hit by the enemy turrets' attack.
Johnson and Odette have possibly the strongest combo in the game: If Odette rides in Johnson's car form and uses her Ultimate upon impact with an enemy, This will most likely result in the target's death. Since Johnson's Ultimate is an AoE stun and Odette's Ultimate is a really high-damaging AoE, They could potentially wipe the entire enemy team if they're all pushing the same lane.
He uses the front of his vehicle form as a shield. He, Freya, and Tigreal are the only heroes who uses a shield as a weapon.
His first skill can be blocked by Lolita's shield if it didn't reach its furthest target.
The old Johnson was one of the characters in the Mobile Battleground - Blitz.