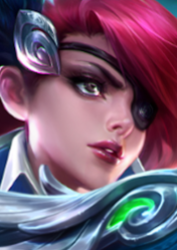 | | |
| --- | --- |
| Durability | |
| Offence | |
| Ability Effects | |
| Difficulty | |
Attributes
| | | | |
| --- | --- | --- | --- |
| Movement Speed | 240 | Mana | - |
| Physical Attack | 115 | Attack Speed | 0.826 |
| Magic Power | - | HP Regen | 36 |
| Armor | 14 | Mana Regen | - |
| Magic Resistance | 10 | Basic Attk Crit Rate | - |
| HP | 2490 | Ability Crit Rate | - |
Trivia
She is inspired by Mira from Magic Rush for the fact that they both are snipers with superior critical damage.
Lesley is the only hero can zoom-out in gameplay, in fact as Sniper.

However, both Gord and Gatotkaca zoom-out when using their Ultimates, just like Lesley's Ultimate.

Her full name is Lesley Vance. She is one of the only heroes in the game who has a full name, along with her sibling and Gusion Paxley.
Lesley and Harley are adopted siblings, they both aslo have -ley on their name.

There is a possibility that if they are in the same team, they are granted with a unique buff that gives 10 more HP to both of them.
It is possible that similar small buffs will be given in the future to other heroes related to each other, such as Lancelot and Odette or Karina and Selena.

Her Ultimate skill can be used on concealed as well as invisble heroes such as Miya or Natalia. This can alert her and her allies when enemy heroes are near.

Her Ultimate's bullets counts as projectiles, they can be blocked by other heroes or shields. Same as Nana's Molina is a projectile.

Many players fear her because of her hard hitting critical attack. When improved with equipment, she becomes deadly when in late game as well with jungling, being able to Two-hit kill some squishy heroes such as Layla.
Despite her name on her standard skin as "Sniper", it doesn't have a rifle scope on her old rifle. The same thing goes on her another skin, the "Royal Musketeer" where it does have a scope on her new rifle.
She is one of the heroes to have a Royal skin. Harley and Lancelot are the others.
Her name is a feminine name of Scottish origin. It is a variant of Leslie (an unisex name).
From the bugs, newly released of Lesley in entry, after entry animation. Lesley's body would distorted except her rifle. See in Youtube.

This must be oversighted by developer that her hair would move than her body.

She is also notable in the game for being a versatile hero. In fact, a sniper is different than a marksman because a sniper works alone while a marksman works with a team.
She can be seen with Cheergunner skin on the loading screen during Bruno Cup event, even though she doesn't appear in Mayhem Game.