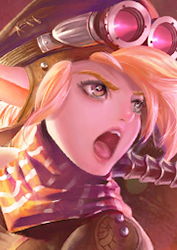 | | |
| --- | --- |
| Durability | |
| Offence | |
| Ability Effects | |
| Difficulty | |
Attributes
| | | | |
| --- | --- | --- | --- |
| Movement Speed | 260 | Mana | 480 |
| Physical Attack | 115 | Attack Speed | 0.786 |
| Magic Power | 0 | HP Regen | 48 |
| Armor | 27 | Mana Regen | 12 |
| Magic Resistance | 10 | Basic Attk Crit Rate | 0 |
| HP | 2679 | Ability Crit Rate | 0 |
Trivia
She is inspired by LOL's Poppy who is also a hammer wielding character having almost identical abilities.
She is the smallest Tank in the game while Grock is the largest. She is the first female Tank in the game. She is the third smallest Support. The two other smallest are Diggie (first) and Nana (second).
A Tank/Support hero has the equal advantage of offense and defense in any battle. She is one of those heroes. The other two are Minotaur and Kaja. She is the smallest and the only female hero in the trio.
Her second skill is one of the most powerful and effective skills in the game.

It can block almost any ranged projectiles. It includes some ultimates from enemy heroes. This gave her an offensive and defensive advantage on the battlefield.
The damage it received are converted into energy by the Energy Rocket. When it is full, it fires a comet like projectile from her hammer which can deal massive damage to multiple enemies. This makes her a very good assistant to any allied hero in the battlefield.

Her passive icon is her splash art.
She and Hilda are only female tank heroes.
Her Ultimate skill is one of the most powerful and effective skills in the game with the maximum damage of 1300 after powering up her hammer and smash it onto the ground. It also has a wide range and a CC ability which is very effective in team fights.
She and Roger are the only heroes in the game to have an Halloween special skin.
Her old version seems to be young appearance and having different abilities. Her firstly second bar is energy instead of mana which is she is energized, and her passive have no buff herself. From her current version is being adult or possibly teenager and her second bar is mana instead of energy.

This only she followed for adolescence despite her old version to new version.

Her name was made famous by the 1955 novel of the same name by a Russian American novelist named Vladimir Nabokov although her background is way different than the story in the novel.