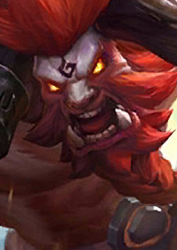 | | |
| --- | --- |
| Durability | |
| Offence | |
| Ability Effects | |
| Difficulty | |
Attributes
| | | | |
| --- | --- | --- | --- |
| Movement Speed | 260 | Mana | 0 |
| Physical Attack | 123 | Attack Speed | 0.73 |
| Magic Power | 0 | HP Regen | 44 |
| Armor | 23 | Mana Regen | 0 |
| Magic Resistance | 10 | Basic Attk Crit Rate | 0 |
| HP | 2759 | Ability Crit Rate | 0 |
Trivia
He and Hylos are the only heroes in the game that are based on Ancient Greek mythology.
His Rage bar, that replaces the normal mana bar, is the only secondary bar that continuously increases in time. This is also the only type of secondary bar that is exclusive for one hero.
Having a durability advantage, Tank/Support heroes are effective in Team Fights. He is one of those heroes, the other two are Lolita and Kaja. He is also the only one that can heal himself and nearby allied heroes.
He and his new Bursting Yama skin are featured in the extension of the MLBB universe: Jade Path.
Minotaur is mentioned in one of Aldous quotes. This is a reference to the Jade Path's lore, where is shown that Minotaur and Aldous already met when the Minoan civilization was destroyed, as well as Aldous being the guardian of their Labirynth.
He is inspired by Alistar of LoL.

Both of them are minotaurs.
The former's second skill is similar to the latter's passive skill.