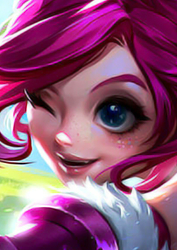 | | |
| --- | --- |
| Durability | |
| Offence | |
| Ability Effects | |
| Difficulty | |
Attributes
| | | | |
| --- | --- | --- | --- |
| Movement Speed | 250 | Mana | 510 |
| Physical Attack | 115 | Attack Speed | 8.64 |
| Magic Power | 0 | HP Regen | 34 |
| Armor | 17 | Mana Regen | 18 |
| Magic Resistance | 10 | Basic Attk Crit Rate | 0 |
| HP | 2501 | Ability Crit Rate | 0 |
Trivia
MLBB Quiz states that she is a "raccoon spirit", but in her background lore she is a rare cat elf and her title is Feline Wizard.
Nana's voice is the same voice actor as Angela.

She also takes some of her quotes from the character Ruby from Magic rush (not to be confused with Ruby from MLBB), another cat-like hero.

When a Molina attacks a Lolita with her shield up, she gets morphed and her shield disappears but can still block projectiles.
She is the first hero to have a Seasonal skin (Graveyard Party).
Before being reworked, her second skill was the hardest counter for Fanny, one of the strongest hero in the game, being an instant CC with no projectile travel that Fanny could avoid with her speed. Her current version has gained advantage against most other heroes but lost its viability in that particular match-up.
Her "Clockwork Maid" skin is a reference to the novel "Alice in Wonderland", resembling the typical outfit of the book's protagonist and being originally named "Wonderland" before her rework.