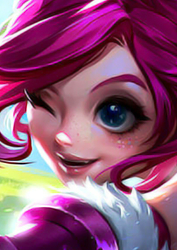 | | |
| --- | --- |
| Durability | |
| Offence | |
| Ability Effects | |
| Difficulty | |
Attributes
| | | | |
| --- | --- | --- | --- |
| Movement Speed | 250 | Mana | 510 |
| Physical Attack | 115 | Attack Speed | 8.64 |
| Magic Power | 0 | HP Regen | 34 |
| Armor | 17 | Mana Regen | 18 |
| Magic Resistance | 10 | Basic Attk Crit Rate | 0 |
| HP | 2501 | Ability Crit Rate | 0 |
Trivia
Despite her alternative name "Feline Wizard", it is similar with literary series with "Feline Wizards" that novel by Diane Duane.

Another thing of her name, the MLBB Quiz stated that she is a "raccoon spirit", but in her background lore she is a rare cat elf.

Nana's voice is the same voice actor as Angela.

She also takes some of her quotes from the character Ruby from Magic rush (not to be confused with Ruby from MLBB), another cat-like hero.

She is one of the smallest heroes in the game. She is quite shorter than Harley but quite taller than Chang'e. She is the second smallest support, only Diggie is shorter.
When Molina hits Lolita with her shield up, the result is that she's morphed and her shield disappears but still blocks any projectiles.
She is the first hero to have a Season special skin (Graveyard Party). The other heroes are Alucard, Fanny, Hilda, Minotaur, Alpha, Moskov, Estes and Franco.
Her second skill has been modifed on her revamp.

Before, she needs to get close enough to morph an enemy hero.
This is also modified in the Bruno Cup Mayhem Mode event where she can throw 4 Molinas in different directions at the same time.

She is one of the heroes in the event whose skills are modified.