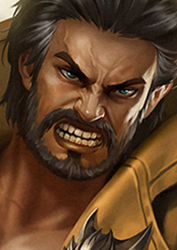 | | |
| --- | --- |
| Durability | |
| Offence | |
| Ability Effects | |
| Difficulty | |
Attributes
| | | | |
| --- | --- | --- | --- |
| Movement Speed | 235 | Mana | 450 |
| Physical Attack | 120 | Attack Speed | 0.842 |
| Magic Power | - | HP Regen | 36 |
| Armor | 22 | Mana Regen | 15 |
| Magic Resistance | 10 | Basic Attk Crit Rate | - |
| HP | 2580 | Ability Crit Rate | - |
Trivia
Roger and Selena are the only heroes that can transform since early game. Johnson can also transform but requires hero level 4 to unlock his ultimate skill.

Lapu-Lapu's ultimate, technically, also counts as a transform for it had new skills upon using it. But, it didn't change his form/appearance at all.
Freya can also transform (into Valkyrie form/ her ultimate skill) but she didn't have new skills (except combining her shield and sword to become an axe) and it is for a short period of time only.

Logically, after turning into human, he still have clothes back instead of being naked.
With 6 abilities, Selena, Lapu-Lapu and him have the most number of abilities in the game. Lunox, with 5 skill, takes second place but has the most number in a singular form, followed by Zhask with 4 abilities.
He is mentioned in Ruby's background. See Ruby/Background.
He is the only Fighter/Marksman hero in the game. This gives him an offensive and defensive advantage in the battlefield.
He and Lolita are the only heroes in the game to have an Halloween special skin.
In previous versions of the game, Roger was smoking; in a recent update, however, his cigarette was removed due to international laws about cigarettes and its effect to minors. Instead, it can now be seen on his animation that he put a wolf pin on his yellow coat. It also works for his Dark Gent skin, but with a rose.
The werewolf is a widespread concept in European folklore, existing in many variants, which are related by a common development of a Christian interpretation of underlying European folklore developed during the medieval period.