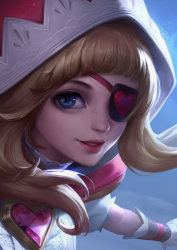 | | |
| --- | --- |
| Durability | |
| Offence | |
| Ability Effects | |
| Difficulty | |
Attributes
| | | | |
| --- | --- | --- | --- |
| Movement Speed | 260 | Mana | 430 |
| Physical Attack | 114 | Attack Speed | 1.0725 |
| Magic Power | 0 | HP Regen | 30 |
| Armor | 23 | Mana Regen | 14 |
| Magic Resistance | 10 | Basic Attk Crit Rate | 0 |
| HP | 2709 | Ability Crit Rate | 0 |
Trivia
Ruby's appearance and a bit of her background story references The Little Red Riding Hood ,while her name may reference Ruby Rose who is also a Scythe wielding character.

She is inspired by Little Red from Magic Rush, despite wielding different weapons.
Her background story is also one of the darkest in the game.

Her name alludes to a type of gemstone that is often found in red. Furthermore, "Ruby" is the name of an actual shade of red.
She is one of the smallest heroes. She is only quite taller than Angela and quite shorter than Franco.
The giant scythe she's wielding represents death. This explains her ability of Lifesteal when attacking enemies.
The "brave hunter grandpa" in her background might probably be Roger before receiving his curse.

In her background however it is said that the "grandpa" was slain by the wolf.
Also, when comparing Ruby's background and Roger's background, it's unclear which one of them actually killed the wolf king.

Ruby is one of the Heroes that can Hook enemies, the other one is Franco
Ruby has an eye-patch on her right eye both in her default skin and "Hidden Orchid Butterfly" skin, but not in her "Cat Girl" skin.

Another hero with an eye-patch is Lesley, but on her left eye.

She's the only hero whose skills have lifesteal, not spell vamp.