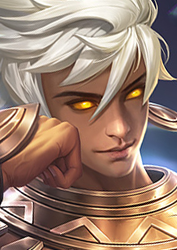 | | |
| --- | --- |
| Durability | |
| Offence | |
| Ability Effects | |
| Difficulty | |
Attributes
| | | | |
| --- | --- | --- | --- |
| Movement Speed | 245 | Mana | 495 |
| Physical Attack | 105 | Attack Speed | 0.8 |
| Magic Power | 0 | HP Regen | 34 |
| Armor | 18 | Mana Regen | 18 |
| Magic Resistance | 10 | Basic Attk Crit Rate | 0 |
| HP | 2516 | Ability Crit Rate | 0 |
Trivia
He's the only hero whose passive let's him add different effects to his skills, meaning he as multiple combinations of chosen effects resulting in many possile playstyles.

For example, a player could choose to increase the damage on every skill, or to give CC effects to all of them, or a mix of both.

He is one of the heroes whose abilities are based on the 5 Greek classical elements. He manipulates air.
Despite being developed before Selena, Claude, Aldous, Lunox, Thamuz, Leomord and Kimmy, Vale has yet to be released in Original servers. He even already has three different skins, meaning he's going to be the first hero ever to be released with more than two skins.

Although there's no prove about it, some people speculate this is because he's overpowered/underpowered, while others think it's due to the fact that he's not related to the Jade Path/Twilight Pass/Conquest of Dawn storyline that involves all the other heroes that got relased.