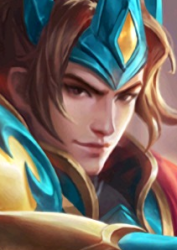 | | |
| --- | --- |
| Durability | |
| Offence | |
| Ability Effects | |
| Difficulty | |
Attributes
| | | | |
| --- | --- | --- | --- |
| Movement Speed | 265 | Mana | 405 |
| Physical Attack | 123 | Attack Speed | 0.964 |
| Magic Power | 0 | HP Regen | 35 |
| Armor | 25 | Mana Regen | 16 |
| Magic Resistance | 10 | Basic Attk Crit Rate | 0 |
| HP | 2689 | Ability Crit Rate | 0 |
Trivia
Zilong, Freya, Saber and Alucard have 6 skins.

He's the first hero to have 2 epic skins: Glorious General (formerly known as Dragon Knight), and Chanbangpo Commander.

Old Zilong can be seen in his Ultimate Skill Icon.
Zilong is based on real life person named Zhao Yun who was a military general who lived in the late Eastern Han dynasty and early Three Kingdoms period.

After few updates, Moonton decided to change his name.

Yun Zhao is first name of release, but was later changed to Zhao Yun.
Zhao Yun was his second name but it was changed to Zilong in the end

He is the second hero to be owned by new players. He can be owned after finishing the second tutorial of the game (Advance Tutorial).
His Ultimate skill quote, "HEROES NEVER FADE!", is one of the most popular and one of the most frequently heard quotes in the game.
His first skill can be somewhat similar to Jawhead's second skill but it is higher and longer in range on the latter than the former.