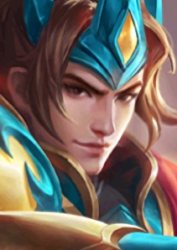 | | |
| --- | --- |
| Durability | |
| Offence | |
| Ability Effects | |
| Difficulty | |
Attributes
| | | | |
| --- | --- | --- | --- |
| Movement Speed | 265 | Mana | 405 |
| Physical Attack | 123 | Attack Speed | 0.964 |
| Magic Power | 0 | HP Regen | 35 |
| Armor | 25 | Mana Regen | 16 |
| Magic Resistance | 10 | Basic Attk Crit Rate | 0 |
| HP | 2689 | Ability Crit Rate | 0 |
Trivia
Zilong, Freya, Saber and Alucard have 6 skins.

Notice that Zilong has 2 Epic Skins: Glorious General and Changbanpo Commander.

Old Zilong can be seen in his Ultimate Skill Icon.
Zilong is based on real life person named Zhao Yun who was a military general who lived in the late Eastern Han dynasty and early Three Kingdoms period.
He is the second hero to be owned by new players. He can be owned after finishing the second tutorial of the game (Advance Tutorial).
His lucky box skin, the Changbanpo Commander, is based on the story, Battle of Changban , the 14th century historical novel Romance of the Three Kingdoms in which Zhao Yun's life is also based on.